Today marks a milestone in World Animal Protection's history.

Thanks to your remarkable support, we have given a staggering 1 million vaccinations to dogs around the world, helping to prevent inhumane killing practices in a misguided attempt to stop the spread of the disease. Because of you, vaccinated dogs in countries like Kenya, Indonesia, and Bangladesh are living a better life.

One lucky dog you've helped save is Bruno, a five-month-old puppy who lives with her owner, Joseph, in Kenya. She is a great protector, loyal friend, and integral part of Joseph's family. With rabies on the rise in Kenya, Joseph believes strongly in vaccination programs as a way to keep his community and its dogs safe. By vaccinating Bruno, Joseph is protecting her from potentially being needlessly killed during a mass cull.

While we celebrate this significant achievement made possible by you, we are looking ahead to the next million vaccinations and the dogs those vaccinations will save.

Will you help us get there by making a special donation to help protect more dogs in need? Your gift could help to protect animals like Bruno from cruelty and suffering. 

Thank you again for helping us to reach 1 million vaccinations! You have truly made a difference in the lives of dogs around the world.

With sincere thanks,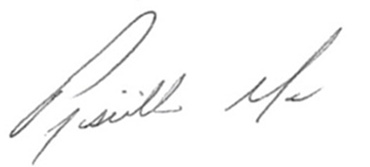 Priscilla Ma
U.S. Executive Director
World Animal Protection
P.S. A dog can be every community's friend and protector, if we value and protect them. Without the vital vaccination programs you help support, preventing mass killing practices and further cruelty towards dogs would be impossible. Please join us with a special gift and help give dogs better lives today!
We are World Animal Protection
We end the needless suffering of animals
We influence decision makers to put animals on the global agenda
We help the world see how important animals are to all of us
We inspire people to change animals' lives for the better
We move the world to protect animals